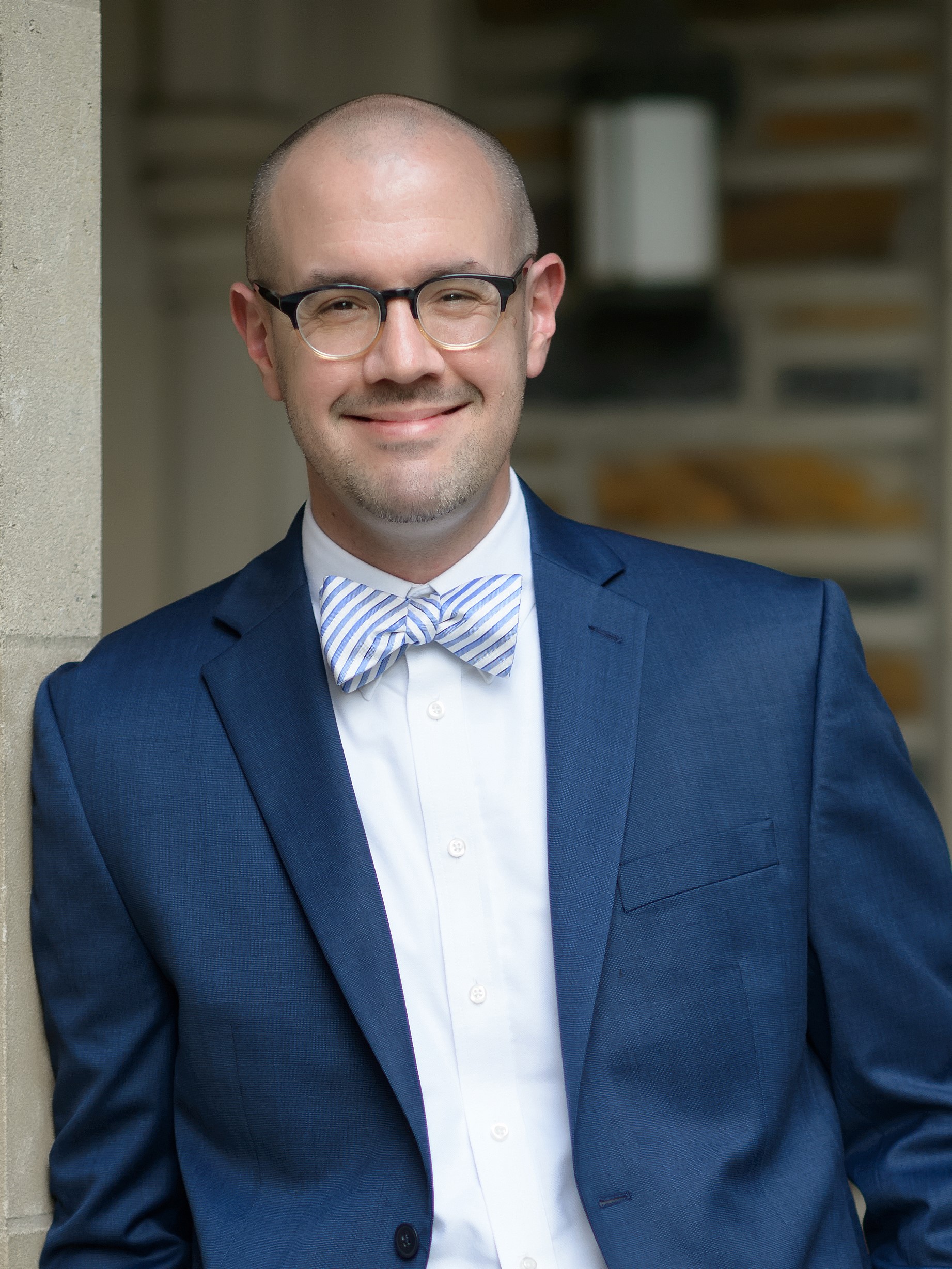 Zebulon M. Highben is an award-winning conductor, composer,
and educator who serves as Director of Chapel Music at Duke University Chapel.
biography
A conductor, composer, and scholar of sacred music, Dr. Zebulon M. Highben serves as Director of Chapel Music at Duke University Chapel in Durham, North Carolina. He conducts the Duke Chapel Choir and oversees the Chapel's extensive music program, which connects students, community members, staff singers, instrumentalists, and professional colleagues in myriad worship services and sacred concerts.
Prior to his appointment at Duke, Zebulon was Associate Professor of Music and Director of Choral Activities at Muskingum University. He also taught at the University of Wisconsin River Falls, Luther Seminary, and Michigan State University, where he was a graduate teaching assistant in both the choral and musicology departments. He has served as a church musician in Lutheran, Presbyterian, and Methodist congregations in Ohio, Minnesota, and Michigan. From 2005-2014, he was the Paul Bouman Endowed Chapel Choir Director at the annual Lutheran Summer Music Academy and Festival.
Choirs under Zebulon's direction have been featured at numerous conferences and festivals, including ACDA of Minnesota, the Ohio Choral Directors Association, the Ohio Music Education Association, and the St. Olaf College Choral Festival. Domestic and international tours have included concerts or worship services in spaces such as Washington National Cathedral, Fourth Presbyterian Church (Chicago), St. Paul's Cathedral (London), and the Thomaskirche (Leipzig). He has served as a guest conductor, clinician, and lecturer across the United States, and in 2016 represented the U.S. in ACDA's International Conductors Exchange Program with South Korea. In 2015, he won the American Prize in Conducting (College/University Chorus Division) for his work with the Muskingum Concert Choir and Chamber Singers.
Zebulon's choral and liturgical music is frequently commissioned and widely performed by churches, schools, and arts organizations. More than fifty of his works are published domestically by Augsburg Fortress, Boosey & Hawkes, Colla Voce, E.C. Schirmer, GIA, Kjos, and MorningStar Music, and by Gehrmans Musikförlag in Sweden. Honors include the Raabe Prize for Excellence in Sacred Composition (2011), a Faith Partners grant from the American Composers Forum (2011-2012), Finalist standing in the American Prize in Choral Composition (2014, 2018), and numerous ASCAP Performance Plus Awards.
His scholarly research is published in the Choral Journal, the Bulletin for the Council on Research in Music Education, Cross Accent, and TRIAD. He compiled and edited the Augsburg Motet Book (2013) and the Augsburg Chorale Book (2017), and co-edited With a Voice of Singing: Essays on Children, Choirs, and Music in the Church, a Festschrift in honor of Ronald A. Nelson. He contributed to the fourth and fifth volumes of Teaching Music Through Performance in Choir, and is a frequent contributor to the Sundays & Seasons and Prelude Music Planner worship resources.
A native of Ohio, Zebulon studied music education at Ohio State University, graduating magna cum laude and with departmental distinction. He earned the Master of Sacred Music from Luther Seminary with St. Olaf College, and the Doctor of Musical Arts from Michigan State University, where he was a recipient of both the Charles K. Smith Fellowship in Choral Conducting and the Robert A. Harris Award for Excellence in Choral Performance. His primary teachers include Hilary Apfelstadt, Anton Armstrong, James Gallagher, David Rayl, Jonathan Reed, Robert Scholz, and Sandra Snow (conducting); David Cherwien and Ronald A. Nelson (composition); and John Ferguson and Paul Westermeyer (church music). Zebulon is an ordained deacon in the Evangelical Lutheran Church in America.